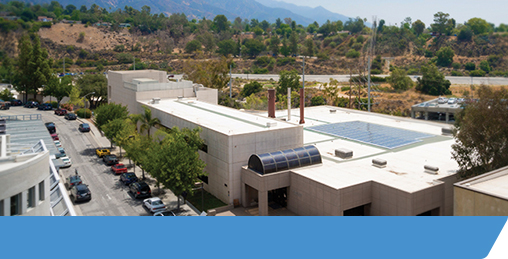 The Microdevices Laboratory (MDL) was founded 25 years ago at JPL under the auspices of the Center for Space Microelectronics Technology (CSMT).
MDL News & Trends
MDL Celebrates 25 Years of Spectacular Science
The creation of the Microdevices Laboratory (MDL) was initiated 25 years ago in response to Caltech's Board of Trustees earlier request to the NASA Associate Administrator for Space Sciences, Dr. Burt Edelson, to consider new areas—other than robotic exploration—in which JPL could take lead responsibility for NASA. JPL Director Dr. Lew Allen and Chief Technologist Dr. Terry Cole then created the Center for Space Microelectronics, appointing Dr. Carl Kukkonen as its first Director. The rest is technological history.
The vision for MDL was simple—build a state-of-the-art facility and hire world-class researchers with a free rein to conduct fundamental research in addition to targeting future NASA needs. As expected, the first five years were an investment in developing capability, acquiring new skills and equipment, and a rapid acquisition of technical know-how by an extremely capable team. Key new endeavors were born in superconducting detectors, infrared imaging, submillimeter devices, and quantum computing so that by the second five years an explosion of flight demonstrations was underway.
Over the next 25 years, MDL will make unimaginable contributions to our national efforts in space, defense, and security. With NASA and Caltech, JPL Director Dr. Charles Elachi and Chief Technologist Dr. Jonas Zmuidzinas, we join our university, industrial, defense, and commercial partners in celebrating our incredible achievements over the last 25 years across a diverse range of applications. Our trademark and inspiration for the future remain in creative innovations in miniaturized technologies that contribute to the national interest.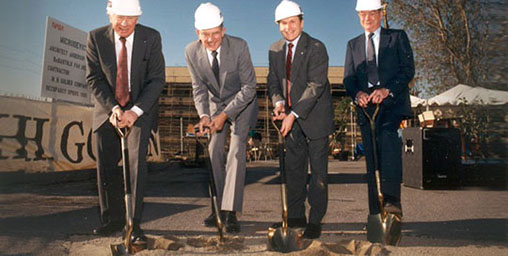 FROM LEFT: Dr. Marvin Goldberger, President of California Institute of Technology, Dr. Lew Allen, JPL Director, Dr. Burt Edelson, NASA Associate Administrator, Gen. Billie McGarvey, Director, Facilities Engineering Division, NASA.