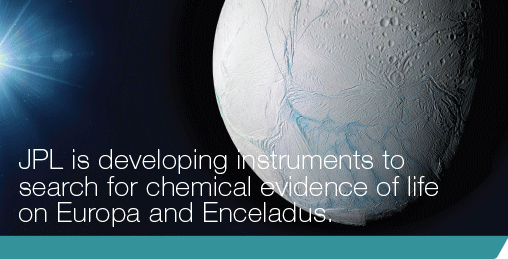 Above
:
Image of Saturn's icy moon Enceladus acquired by NASA's Cassini spacecraft. The blue "tiger stripes" in the lower portion of the image are geologically active "geyser" features, which spray icy, organic-laden material into space.
Credit
:
NASA/JPL/Space Science Institute.
In Situ Instruments
At the most basic molecular level, all life on Earth is fundamentally the same, constructed from a relatively small set of chemical building blocks. By analyzing the distributions of organic molecules on other worlds, we can search for patterns of these building blocks that can provide clues about the presence of extinct or extant life.
In this search for life in the universe, instrumentation capable of liquid-based chemical analysis is needed. This requirement for liquid analysis is not surprising: it was in water that life evolved on Earth and through liquid-based techniques that we have greatly augmented our understanding of biology and complex biological processes. Microchip electrophoresis with laser-induced fluorescence (ME-LIF) detection is a liquid-based technique that provides efficient separations for a variety of these building blocks such as amino acids or fatty acids. Specific molecular properties of these organic acids (chirality of amino acids, and carbon chain length of fatty acids) are useful biomarkers should they be detected in extraterrestrial environments.
Towards this goal, MDL has developed the Chemical Laptop, the first battery-powered, automated, reprogrammable, portable astrobiology instrument. The Chemical Laptop houses the microfluidics, electronics, and optics needed to perform highly sensitive ME-LIF analysis of organic acids and other organic biomarkers.
More information can be found online at:
http://www.jpl.nasa.gov/news/news.php?feature=4765
Current Projects