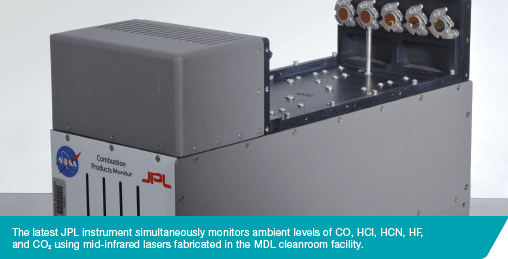 MDL News & Trends
Laser-Based Sensors for Environmental Monitoring and Spacecraft Fire Safety
MDL is developing combustion product monitoring instruments to address manned spacecraft fire safety for future NASA missions. Using semiconductor lasers to probe molecular absorption lines at infrared wavelengths, these instruments provide a real-time record of ambient gas concentrations with remarkable sensitivity and specificity. Laser-based sensors sniff out the slightest increase in the levels of poisonous gases generated by accidental fires with rapid response time and long-term measurement stability.
The latest JPL instrument pictured above simultaneously monitors ambient levels of CO, HCl, HCN, HF, and CO2 using mid-infrared lasers fabricated in the MDL cleanroom facility. Using this five-channel sensor, the target gases are detected at the parts-per-million level. Looking ahead to interplanetary manned spaceflight missions, it will become even more critical to provide astronauts with exceptionally accurate combustion sensors capable of long-duration, service-free operation.
LEFT
:
1 mm x 0.5 mm QC laser chips produced at MDL. The lasers are soldered into a temperature-controlled package for integration with laser spectroscopy instruments.
RIGHT
:
A semiconductor QC laser wafer processed in the MDL cleanroom. After cleaving into individual devices, this small section will produce more than one hundred individual lasers.
Mid-IR Laser for High Ultra-Precision Spectroscopy Instruments
MDL lasers have enabled measurements of greenhouse gases, their isotopes, and reactive intermediates in the troposphere and the stratosphere (OH, H2O, HDO, CH4, HCl, and C2H6) on the order of parts-per-trillion (ppt) concentrations via integrated cavity output spectroscopy (ICOS) and cavity ring-down spectroscopy techniques. Tunable laser absorption spectroscopy (TLAS) is a versatile and robust method for gas sensing with applications ranging from industry to Earth and planetary science. Together with techniques such as wavelength-modulation spectroscopy, TLAS with simple absorption cells is capable of detection limits on the order of parts per million, which is sufficient for many applications of interest. However, for weaker-absorbing molecules or measurements that require higher sensitivity, a cavity-enhanced method, such as cavity ring-down spectroscopy, is often used and requires light sources capable of emitting tens of milliwatts of single-mode power due to the low coupling of the light into a high-finesse cavity.
In collaboration with the epitaxial growth expertise of Naval Research Laboratory and MDL's semiconductor laser fabrication expertise, JPL has delivered highpower interband cascade lasers emitting at 3.38 μm for integration in Harvard Professor Anderson's ICOS instrument and Caltech Professor Okumura's cavity ring-down spectrometer. Professor Anderson's research is focused on investigating the relationship between climate change and stratospheric ozone depletion at mid-latitudes by measuring ppt levels of HCl and HDO, while Professor Okumura's spectrometer targets fugitive natural gas emissions such as ethane to determine if the shift towards natural gas energy production exacerbates climate change. The technological accomplishment of MDL lasers has enabled cutting-edge science. Ultimately, the lasers developed at MDL have bridged the long-standing gap in commercially available laser technologies and have enabled state-of-the-art spectroscopy techniques for atmospheric science.
LEFT/CENTER
:
Electron micrograph of a double-ridge interband cascade laser with a lateral Bragg grating with corresponding output power and spectrum designed for single-frequency emission at 3.38 μm.
RIGHT
:
Calculations by Professor Anderson's group showing how warmer surface temperatures can lead to a wetter and cooler stratosphere, which can lead to ozone loss at mid-latitudes.