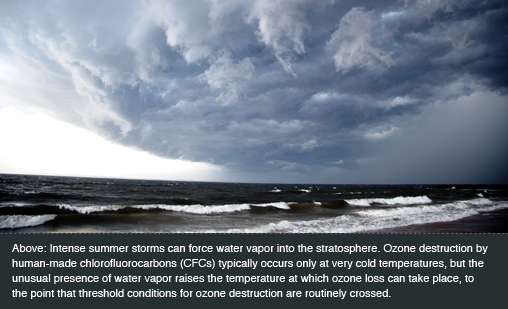 MDL News & Trends
MDL Device Helps Determine the Relationship Between Water Vapor and Mid-Latitude Ozone Loss
Scientists have discovered that intense summer storms can force water vapor into the dry and cold stratosphere. Ozone destruction by human-made chlorofluorocarbons (CFCs) typically occurs only at very cold temperatures, but the unusual presence of water vapor raises the temperature at which ozone loss can take place, to the point that threshold conditions for ozone destruction are routinely crossed during the summer above the United States and possibly elsewhere. The frequency and intensity of these summer storms is expected to increase with climate change due to increasing levels of heat-trapping atmospheric carbon dioxide and methane. Depletion of stratospheric ozone would allow more DNA-damaging ultraviolet radiation to reach Earth, with potential biological effects on human beings, animals, and plants.
Courtesy of James G. Anderson, Harvard University
Recent calculations by Professor Jim Anderson's group at Harvard University show how increased surface temperatures can lead to a wetter stratosphere, resulting in mid-latitude ozone loss. Tools are needed to study the transport of water vapor into the stratosphere to better understand the dynamics and the subsequent chemistry of key halogens in the event of a cold, wet stratosphere.
In order to thoroughly characterize atmospheric composition at all altitudes, an unprecedented scientific and technical effort is needed. Essential to the advancement of both remote-sensing and in situ science are improvements in continuous-wave (CW) and high-energy pulsed laser systems in the mid-infrared (mid-IR) spectral region to bridge the long-standing gap in commercially available technology. Sources in the spectral region from 2.8 μm to 3.5 μm are crucial to the sensitive and precise quantification of several chemically and climatically relevant atmospheric trace species, including OH, H2O, H218O, HDO, CH4, 13CH4, CO, CH2O, and C2H6, all of which present strong fundamental vibrational absorptions in this range.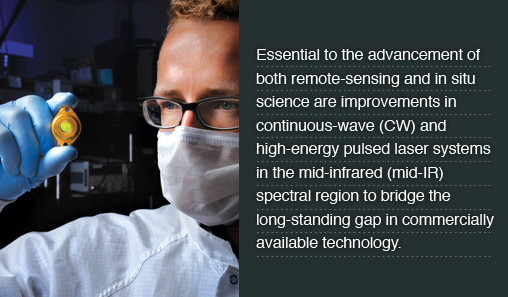 Partnering MDL's technical expertise in laser development with the scientific and engineering capabilities of Anderson Research Group at Harvard University to deploy cutting-edge in situ instruments for the measurement of these gases has proved extremely successful. The collaboration has promoted the development of single-frequency mid-IR diode lasers primarily intended for use as CW optical sources for in situ absorption spectroscopy utilizing long-path-length multipass cells. JPL has developed and delivered single-frequency tunable CW lasers at ~2.65 μm with unprecedented performance characteristics. The delivered lasers produced more than 30 mW of output power, which represents an order of magnitude improvement over commercially available lasers at similar wavelengths. The subsequent integration of these lasers with Harvard's high-performance, miniaturized electronics control suite and specially designed and field-tested optical system and instrumentation provides a package for the detection of water and its deuterated isotopologue, HDO, with greatly enhanced sensitivity and accuracy. These measurements are critical to the study of water vapor transport into the stratosphere and its effect on the chemistry of key halogens such as HCl as they relate to ozone loss.
For more information on Anderson Research Group, visit:
http://www.arp.harvard.edu/
For more information on MDL Laser devices, visit:
http://microdevices.jpl.nasa.gov/capabilities/semiconductor-lasers/