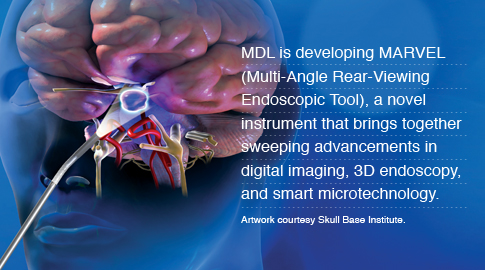 Artwork courtesy Skull Base Institute.
MDL News & Trends
Skull Base Institute is Partnering with MDL to Develop the Next Generation of Endoscopic Tools
MARVEL (Multi-Angle Rear-Viewing Endoscopic Tool) is a revolutionary instrument bringing together sweeping advancements in digital imaging, 3D endoscopy, and smart microtechnology. MARVEL includes a tiny high-definition stereo camera and an illumination system mounted on the tip of a miniature tool, constituting an endoscope. Although the technology previously existed for 2D imaging endoscopes at this size for minimally invasive neurosurgeries, MARVEL brings together for the first time a stereo imaging camera and its side-to-side sweeping capability for this application. The benefits are significant. While smaller endoscopes and thinner instruments allow for smaller incisions and lesser disruption to surrounding tissues and structures, seeing the tumor in 3D and in high definition allows the surgeon superior visibility, depth perception, and the ability to place surgical tools with the utmost precision. In 2013. JPL delivered a functional prototype of 3D-MARVEL (Multi-Angle Rear-Viewing Endoscopic) to the Skull Base Institute for testing.